mdex 

Experts: Remote video surveillance via mobile network
Remote surveillance via mobile network ( LTE / UMTS ) and internet
Do you want to monitor a property, premises or any other area remotely using an IP camera, but do not have an internet connection at the installation site? With an mdex mobile network solution you can access your IP camera(s) via a mobile network from any location in a few short steps.
All the benefits at a glance:
Camera use from any location
Connection of any IP camera
No DSL necessary – just power
Global access
No other software required
Simple set-up of your video solution with mdex
1. Connecting the camera with the mobile network
Connect the IP camera with the included mdex mobile router ( LTE / UMTS ) Ethernet cable
If there is an activated mdex SIM card, an mdex router automatically establishes the mobile network internet connection
2. Establishing access from the internet
Activate mdex IP service (e.g. fixed public IP address) via the mdex Management Portal
The camera can be reached via a special internet address or a public IP
mdex enables global access to devices
Benefits of mdex Solutions
Permanent availability of your terminal devices on a mobile network
Direct remote access
mdex components operational in just a few steps
Available simply as an extension or a complete solution
mdex Solutions for remote video surveillance with fixed IP
The advantage – the choice is yours. We offer you the right access solutions for your remote video surveillance with either a fixed public or fixed private IP address.
Public IP access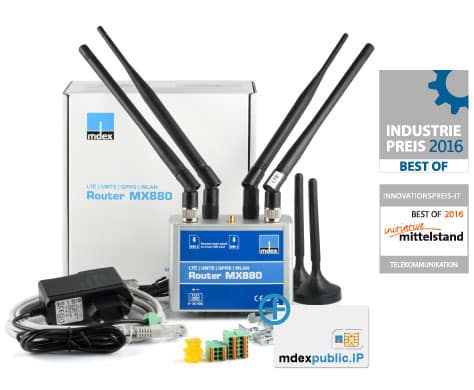 Our all-in-one LTE solution (router, SIM, public IP service) for remote access is especially ideal for bandwidth-intensive video applications.
Fixed public IP address for direct public remote access
Flat-rate 5GB SIM up to 50 GB1 on Vodafone network
LTE router MX880
Private IP access
The mobile.WEB package allows you to access the IP camera web interface via a secured web link (https) in just a few short steps.
Fixed private IP address for remote web access
Free mdex SIM tariff selection (150 Mbit/s data package up to 50 GB flat-rate1)
LTE router MX880
Private IP access (max. 13 devices)
The mdex mobile.LAN package comprises an entire network for secured access to up to 13 devices via web-link or directly via VPN.
13 fixed private IP addresses
mdex control tunnel for direct access
free mdex SIM tariff selection
LTE router MX880
Outdoor Antenna + extension cable
1Reduced to 64 kbit/s once data quota used.
mdex Consultancy – individual & effective
Come and chat to us about:
access options for your devices and systems

the ideal SIM card tariff for you

choosing the right mdex components