mdex

Experts: Site networking via LTE mobile network
Do you want to link two sites with ease via an LTE mobile network, e.g. with IPsec?
The mdex LTE router MX760 allows you to transfer a public IP address directly from the mdex MX760 router to your connected network device (e.g. IPsec server, firewall) while saving you complicated individual configuration. This means you can access your connected network device (e.g. IPsec server) with ease.
All that is required for this is a PPPoE client on the connected server.
Simple set-up in three steps:
You can find out on our >> Support-Wiki how to transfer a public IP address from the mdex MX760 router to a connected network device.
All the benefits at a glance
The mobile network connection is controlled by the connected network device (e.g. IPsec server, firewall).
No laborious configuration (no NAT / no port forwarding).
mdex components operational in just a few steps.
We recommend: the mdex
LTE
PRO
Package
Your advantage: mdex Support for setting up your site networking is already included. If you already known the desired configuration parameters then we can send your your solution with individual pre-configuration already in place.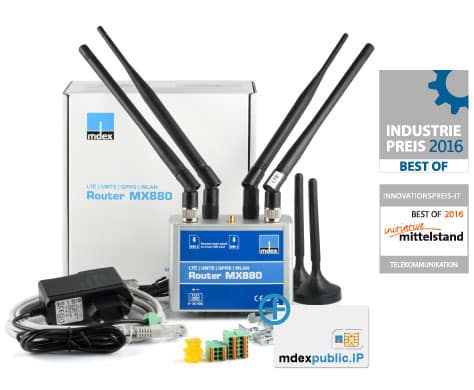 mdex
LTE
PRO
Package
LTE router MX880 (4G / LTE, 3G / UMTS, DSL, VPN)
mdex SIM Vodafone 5 GB / 10 GB / 30 GB / 50 GB Flatrate1
Fixed public IP address
The mdex LTE Pro package enables direct access to servers and other systems via a fixed public IP address. It comprises an mdex public.IP, the mdex LTE MX880 router and and mdex Vodafone SIM LTE flat-rate tariff (5 GB – 50 GB)1. Ready-to-use and pre-configured, the mdex LTE Pro package is ready to go in a few short steps.
The device is immediately available from the internet via the IP address.
Only available for sale to business customers
mdex does not conclude any contracts with consumers (Section 13 of the German Civil Code BGB). All prices are net prices.
Existing customers can continue to order with their customer number (customer code).
Feel free to get in touch with us if you have any questions: 04109 555 444
30-day trial period with right of cancellation
max. 2 x routers
max. 2 x SIMCards
max. 4 x mdex public.IP / mdex fixed.IP+ / mdex HQ-Tunnel
When ordering simply select the '30-day trial period' option.

Terms and conditions
SIM cards costs are charged (no pro-rata charge).
Damaged hardware will be invoiced.
As-new hardware will be delivered, possibly not in original packaging.
This may, upon request, be exchanged for new hardware after the trial period.
The products are purchased with a 30-day cancellation period. It is possible to withdraw from the purchase agreement within this time without stating reasons. An invoice will be issued upon expiry of the 30-day period.
mdex LTE pro Package
472.29 EUR
mdex Setup Support
48.00 EUR
Total net price (once)
520.29 EUR
Total net price (monthly)
48.73 EUR
Minimum contract term:
24 months
Notice period:
3 months
1Reduced to 64 kbit/s once data quota used.
With our installation support service we provide you with tailored assistance in the set-up of your mdex LTE pro package by phone, e-mail or remote access.
mdex LTE pro Product Description
The mdex MX880 router already has a standard configuration which we can adapt for you on a customised basis.
Examples of custom adaptation of the mdex MX880 router include:
Use of own SIM card
Remote access to several connected devices
Start-up of wireless LAN (Wi-Fi)
Adaptation of the IP address range of the mdex MX880 router to the locale network
etc.
On request we can send you the router according to your specification and individually pre-configured.
Contact: